Remove Marc from your favorite artists list
Add Marc to your favorite artists list
About Marc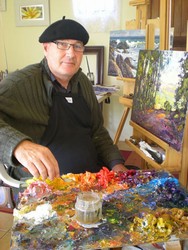 Marc is an Artist with SouthAfricanArtists.com based in South Africa.
Marc Poisson has been painting for over 40 years, and now approaching the autumn of his life, has emerged as one of the most well-known artists in South Africa. Enjoying the mature period of his profession, he is quite at ease in his bold, distinctive style of painting. He consistently captures atmospheric light in scenes of typically South African subjects which hark back to a more peaceful, leisurely era. This view seems to be substantiated by his aversion to many of the things we associate with modern life. For example, one seldom sees a motor vehicle in his street scenes and sometimes even bitumen roads give way to the old gravel farm roads.

Most of the subjects he paints are of historical significance, almost as if he were creating his works of art for posterity. Marc paints many of the well known Cape homesteads typically found in wine producing areas, as well as scenes of the traditional "trek" fishing. While this particular mode of fishing is gradually dying out it does still take place on some Cape beaches. Donkey carts on dusty roads, the time ravaged buildings of District Six and the quaint historical mining village of Pilgrims Rest are among his many varied subjects.

Examining these various subjects, one perceives the way this artist uses light to underscore the importance of scenes as if to etch them into our national psyche, as though they need to be cherished and preserved for future generations. Even the humble fisherman's cottages with their characteristic but often dilapidated white-washed walls and roughly constructed thatch roofs seem to stand out and dominate their surroundings as if to establish their importance in the Cape landscape.

From close observation of his work he obviously enjoys thick paint on canvas, and the textures which result from use of the palette knife. Often there is evidence of scumbling with the knife combined with bold impasto brush work. When timber boards are occasionally used as a support interesting textures are achieved in the priming stage enhancing the end result.

While his colours are not garish they are often quite strong and striking, particularly when depicting passages of light and shade or in some of his dramatic sky scenes. Harmony of colour is what is strived for. He has a strong aversion to the fashionable gaudy colours often used for no good reason in contemporary work today.

Notably, Marc is careful to avoid some of the pitfalls that even some well established artists have fallen into, often resulting in the cracking of the paint.
Another problem is that the underneath areas which were initially painted, then concealed by being painted over, begins to show through.
He avoids merely painting over areas where changes are made to the artwork, as these changes often, as mentioned above, show through the upper layers of paint after a long period of time when the paint eventually thins.

Marc is known mostly for Cape scenes such as District Six, Stellenbosch street scenes and Cape homesteads, boats in Hout Bay as well as West Coast boat and cottage scenes. He is also well known for depictions of Pilgrim's Rest, the Natal Midlands, Drakensberg Mountains and the occasional seascape. Marc also paints donkey carts, figure studies and wildlife.

What really gives these subjects their impact is his ability to create the illusion of the constantly changing, atmospheric light.

Marc has been inspired by a number of his peers over the years. However, the greatest influence came from three artists who in the 1970's were considered the best known realists in South Africa. These artists were Dino Paravano, Titto Fasciotti and Errol Boyley. He feels that much can be learned from the strength of Fasciotti's colours, the warm tones of orange and yellows also reflected in his greys; Paravano's mastery over light and shade, his skilled use of contrasts which can be observed at dusk and dawn as light illuminates common scenes giving them a sense of space and movement; and Boyley's mastery over superlatively rendered sky-dominated landscapes.

Having progressively developed his style and technique over the decades, Poisson's work is distinctly and immediately recognisable.

Marc Poisson finds his work in ever increasing demand as he divides his time between South Africa and Australia.
Private collections where his artworks are enjoyed include not only South Africa but other countries such as Israel, Portugal, Austria, United Kingdom, Republic of Ireland, Canada, United States of America, Japan and Australia.

In the prime of his artistic career, Marc Poisson studies and travels, constantly seeking to fuel the inspiration needed to create images that strike a chord within our inner selves.
As he continues to paint one can always be sure to enjoy strong impasto brushwork and the skilled use of the palette knife as he portrays the timeless effect of the dance of light.

Price Range
US$215-6,200
Email
Exhibitions
1978 First solo exhibition - Johannesburg
1981 Solo exhibition - Nelspruit
1983 Solo exhibition - Johannesburg
1989 Top 40 Realists Exhibition - Johannesburg, Sandton
1990 Solo exhibition - Vereniging
1997 Group exhibition - Fourways, Johannesburg
1999 Group exhibition - WSSA, Fourways, Sandton
2008 Group exhibition - Winmalee, Blue Mountains, Sydney
2008 Group exhibition - Blackheath, Blue Mountains, Sydney
2011 Solo exhibition - Ramsgate, Crocodile Bend, South Africa
2012 Solo exhibition - The Dodds Gallery Durban KZN S.Africa
2012 Group exhibition - Stellenbosch Gallery South Africa
Education
Self Taught Artist
Recommend this Artist!
Bookmark this page on: