Alignment
Oil on canvas, US$1,958

Alignment
Remove from your Shopping Cart
Remove from your favorite works list
Add to your favorite works list
Details
Oil on canvas
W: 610mm x H: 1200mm x D: 20mm
W: 24" x H: 47" x D: 1"
Approx. Weight: 3kg
This work is unframed
Price
US$1,958
Scale
Location
(with the artist)
About "Alignment"
1988 was the first year in which there was any outward sign that the protests, together with cultural, sporting and business boycotts were affecting apartheids rulers positively rather than negatively i.e. that there was any possibility of a negotiation. With all the insanity that had been proliferating, it was a time to take stock and realign one's focus. Here we see that the spiral and the snake are reaching a balance and a harmony underneath the arrow-head, a canopy of protection and focus. this harmony is balanced and poised, not rigid and immutable. This obviously represents the psyche and it comes about as a hard earned necessity for sanity and healing.
Remove Helgé Olle from your favorite artists list
Add Helgé Olle to your favorite artists list
View all 38 works by Helgé Olle Janssen
About Helgé Olle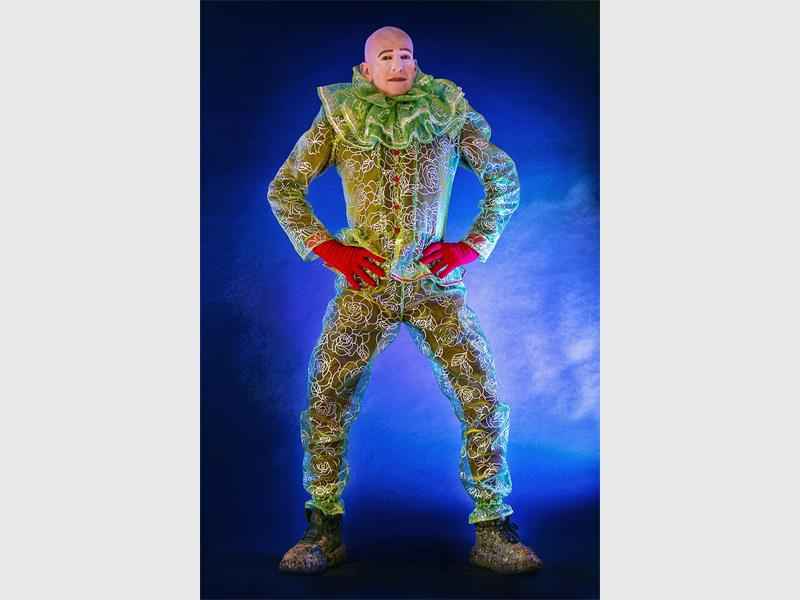 Helgé Olle is an Artist with SouthAfricanArtists.com based in South Africa.
This is a self portrait 09/05/13

I had a novel published 2005 by Pine Slopes Publications called "TELL TALE" ISBN 0-9684874-1-3. This novel deals with the 'altenative (music) scene of the '80's and '90's. TELL TALE has just been republished as an e-book: lulu.com/spotlight/ll3322. Get YOUR copy today and READ ALL ABOUT IT!

Art was not an option for study at High School. During my Biology teacher training, drawing those microscopic details began to stir something within my creative urge. However, I only began painting when I later studied fine art at PMB University. During this year there were disagreements with some of my lecturers. I then left for Europe on a one way ticket! HUGE changes occurred in my 'psyche' during my travels. However travelling made me realise how 'African' I was and I returned to South Africa at the end of 1975.
Back in this country, I had a driving need to transform my "European experiences" into a particularly South African CONTEXT and began to pursue whatever creative opportunity presented itself to me. There were absolutely NO formal structures in place that could meet my needs, so I subsequently formed my own dance groups, or worked entirely on my own. My novel has documented much of what life was like during this time. It is a mixture of docu-reality and histro-practicality, the deeply personal and the utterly insane!
I have written and performed in 5 "avant-garde" plays. In 1984 I founded an avant-garde performance group (together with Gisele Turner, Gisele Stafford, David Mulvey, Peter Hart-Davis, Simon Stengel) called the Body of Despondent Artists and we were active as a group until David's departure for Ireland in 1987. Joining the group in performance and/or creative energy/classes were Collen Castelijn (Seer in 'I Have No!'), Ruby Bogaard (Dark Corners of a New Mind), Andrew Yates (photography), Aryan Kaganof (Ian Kirkhof), Rosemary Jones (Through a Lens),Ilse Biel, Mikhail Peppas, Andre Oosthuizen, Jessica Ramsden, Eldon Swallow. I gave classes free of charge, directed, made costumes and masks for the group, choreographed, experimented with performance/dance styles. This was a period of INTENSE growth and experimentation and research into theatrical techniques. I subsequently pursued a solo career performing in two self penned plays "BLOOD" (1988 - 90) and "The Come-Uppance of Punch" (1995 first performed at the Windybrow Festival, then 1998 and '99 Bat Centre). "Punch" featured a prologue and epilogue based on the NEMESIS archetype written by Eldon Swallow.
I spearheaded the 'alternative' music scene through the '80's and mid '90's (15 years) djing in various clubs in Durban (starting out at Rumours which eventually became Faces) under the title of "PLAY". I introduced fashion shows, performances into the night club scene. People dressed up and fantasized with their garments on a weekly basis, without having to resort to quick fix solutions by hiring costumes. I produced a fanzine entitled "Facet" in which the focus and direction of the 'alternative movement' had a 'voice'. The criteria was essentially non racist, non homophobic, non sexist. I, together with BODA, became a member of the ECC in 1985.

Between '82 and '88 in particular, the club was a target of the security forces, where harassment and police raids were the order of the day. These were extremely trying times to put it mildly!

I see my paintings as PSYCHEreal or SUPRAreal as opposed to surreal.
I have been influenced by JUNG - particularly with the discovery of various ARCHETYPE IMAGES which have recurred in my paintings. I was a member of the Jungian Society and attended regular monthly lectures/meetings/workshops under the guidance of Gloria Gearing. This was indeed a privilege. My work has been concerned with the PSYCHIC state of apartheid (with specific reference to the 'collective unconscious') and the ravages of this UNSUSTAINABLE political/social/cultural state. These paintings therefore represent a particularly dark phase of South African history from a completely unique perception, and serves as a telling document of the time.
I have not painted since 1996.

I re-entered the teaching profession in 1997. Looking back now in 2013, all I can say is that I have learnt much. In 2009, experiences at a High School in the Umbilo area have left me devastated. Malema was in full cry! I stepped into a 'pocket of insanity'. The turmoil within the school was unprecedented. I was given classes to teach where a teacher already existed in that post - Grade 10, 11 and 12 Life Science - the post advertised in the press. I found the teaching situation within the school untenable. At least one teacher that I know of was caning pupils. The Headmaster was suspended pending an investigation, so the GB, parents, some teachers and eventually the learners held sit-ins and strikes to have him re-instated. To my knowledge there is no workable POLICY either via the Ed. Dept. or via the UNIONS to address Educator concerns. The Headmaster had offered me a permanent post. After six months of daily abuse my sanity was about to collapse and I was placed on sick leave. I refused to return to that school and submitted reasons to relevant authorities. The headmaster 'invoked' a 'fixed term contract' to have me dismissed, yet this contract is NON EXISTENT!! I had an arbitration hearing. The ELRC issued TWO AWARDS! ONE in my favour, and (15 minutes later via fax) one in their favour....without informing me. I discovered this wonderful adjustment to justice three weeks later when I enquired as to why I had not been paid! I have taken the matter to the Labour Courts. The Ed. Dept. have failed to prove that I was on a fixed term contract. In fact they printed out a contract in May of 2010 claiming that I had not signed it and that was why it was not in my files! However, they forgot that the computer printout was DATED and that the 'contract' had my UPDATED salary scale! Legal procedure in this country is criminal in itself. No wonder so many criminals get away with their crimes as many people cannot be bothered to report them. These experiences with the Ed. Dpt. (who should have stepped in a long long time ago) simply emphasises their sad state of affairs, and the contempt with which they treat their employees.
UPDATE: The lawyer who has taken up my case 9 months ago has been joined by another lawyer. It is truly a blessing to have found such considerate individuals, working on contingency. My faith in human nature and in the 'long arm of the law' has been given a huge boost! We had a very positive meeting last week. And now, another 9 months later? Still no nearer a court date. The oponents are pulling every trick in the book to delay, delay, delay! Draw your own conclusions!
My latest art project - a 48:48 minute documentary on Americana songstress Jaspar Lepak - has been rejected by Encounters Documentary Film Festival in CT. I am currently preparing for a retrospective exhibition opening 15th June at Chilliplum Bistro 3 Abrey Road, Kloof. The Bistro is not open Saturdays or Sundays. However, I will be giving a walkabout this coming Saturday 29 June 11:30 for 12 noon. On view will be a selection of paintings between 1983 and 1991, fashion garments, hand made fabric wallets (which I currently sell at Shongweni Farmer's Market on Saturdays (weather permitting), and a series of slogans called 'Shooting from the hip'. The exhibition will close on 19th July 2013. Good news: this exhibition was reviewed by Aryan Kaganof (artist, film maker, poet, novelist) and was published in the September issue of ART SA! Yay! :-)
Price Range
US$50-14,683
Email
Exhibitions
First exhibition was at the Space Gallery in Cape Town 1977
Most recent exhibition - retrospective at KZNSA Gallery on invite with Kaganof 2002, where I gave a performance using my voice (making sounds as I moved and twisted and explored the physical) - and held a short fashion show as well as exhibiting 9 of the paintings you see here. On an orange wall.

I have exhibited in theatres - Stable Theatre/Our House Theatre - (considered an 'unrecognized venue' for the exhibition of art and therefore not taken seriously by the art establishment) or 'low key' galleries such as Things Gallery (Dbn) and the Carriagehouse Gallery (Jhb).

While living in Yeoville (1994/5) I trundled around to EVERY KNOWN art gallery in jhb. NOT one single gallery showed the slightest interest in my work, the closest telling me that they had a three year waiting list! What was my absolute worst though, was being shown work of 'New York' artists and being told to 'paint something like that'.
Education
Natal Teachers' Senior Diploma III (Botany and Zoology)
Recommend this Work!
Bookmark this page on:
People who chose Helgé Olle's work also chose work by:
Find other: