---




Bonza Bay
Ivan Vincent
US$93




Portrait (Bobby)
Leon du Preez
US$292
SOLD






---




Sacred Sperm
Margery Bradfield
US$584






The Passion
Margery Bradfield
US$584




Affirmation
Margery Bradfield
US$584

---




Dizzy Mountain
Margery Bradfield
US$778




Aeroplane Angel
Margery Bradfield
US$778




Feeling Free
Margery Bradfield
US$778




Frenetic
Margery Bradfield
US$973

---








Rodger
Margery Bradfield
US$486




The Attraction
Margery Bradfield
US$195

---
About Ann Bryant Art Gallery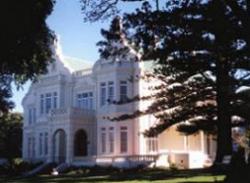 The Gallery building attracts the attention and comments of most visitors, many of them from places where there are buildings much older and of more historic interest.

The gallery's permanent collection includes British and European works of the later 18th and 19th Centuries as well as an extensive cross section of South African Art from the 1920's through to the modern contemporary styles.

One can view current exhibitions by various local artists or sit outside under the trees and enjoy the peaceful surrounds of the idyllic garden setting.

The Coffee shop offers a full menu.
Price Range
US$58-9,729
Artists Represented
Email