About Epsac Communty Art Centre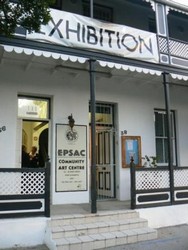 We are a community based Art Gallery at 36 Bird Street, Central, Port Elizabeth, committed to promoting the arts in the Eastern Cape. We have a lovely gallery which is available for bookings, and we arrange regular adjudicated open exhibitions, to promote a high standard of art in the Province. Our members enjoy preferential rates for exhibiting. As funding becomes available, we are extending our activities to include workshops across the province, and sponsored exhibitions for deserving artists. We are currently embarking on a project to help schools in previously disadvantaged areas to improve their facilities for art students.
We have a permanent collection, and an extensive library which is available to our members. As a SANAVA branch, and member of VANSA, we are able to offer the advantages of these National bodies to our members. If you would like to become a member, or to become a donor-patron in order to help us extend our community projects, please E-mail us for a membership form.
Price Range
US$236-436
Artists Represented
Email