Remove Almira from your favorite artists list
Add Almira to your favorite artists list
About Almira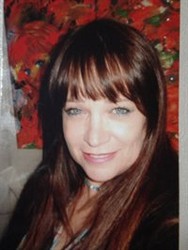 Almira is an Artist with SouthAfricanArtists.com based in South Africa.
Healing art
By Almira
There is a song " I still haven't found, what I am looking for" I have heard many people sing with such yearning and passion but when I ask them what it is they cant answer me because they don't know that they are looking for LOVE because it is all there is.

I have almost always felt there was a few pieces missing to my life puzzle. Spirituality gave me the missing pieces around 2006/7. The completed story left me broken / hurt / angry / and I knew I was never loved, and never felt safe, one thing was for sure I needed help and didn't want help in a conventional way. I handed myself over to my soul and said "you run ahead of me today until I ask you to stop when my new story is completed", I am still writing and loving every second of it. My soul took me deep down into my darkest alley's and then back up to my highest brightest star and it is there where I want to stay for ever.

I discovered LOVE, without love we are nothing and that's who we are. Nothing less nothing more or nothing else! And it is LOVE yourself I am talking about here. The only responsibility you have towards yourself is to love yourself and everything else will follow. With love, hope and asking the universe to help me and trusting they will, that is why I am where I am today. I am no one special, there must be beings who have gone deeper or still are in their darkest alley's, and to them I will say let go of the old, create your new story with your imagination and climb out of your alley step by step and trust yourself to get out and you will.

The universe gave me art to express my pain / anger / disappointments etc. I asked to be given something unique as a reward for the pain I had to live with for so long and need alot of healing. The beauty of healing art is while you are having fun you are releasing fear (pain, hurt, anger) and not even aware of what it is because it works on a very deep level. I also wouldn't always want to know what I am releasing knowing myself I would want to tell my best friend of the pain and that's when I will be putting what I released straight back again.

LOVE heals fear! LOVE and art is my bible! There is alot of fear in this world hence the wars, pollution, hunger, gossip, stress and anger, I have formed a pact with myself that my prayers will be in thoughts and not words, every time I see / hear something fear related I will place what ever it is in a heart and let it go. Not even I understand the power this action makes in the universe sending healing to that energy but if it works .00000001% I am willing to make a commitment as it takes a few seconds and isn't hard work at all. When you can add a loving feeling to your thought, it makes it even stronger. I am a heart machine pumping big hearts small hearts colorful hearts I am asking everyone who reads this to pass it on with the intention to pass it on again and this way we are creating a big heart that will eventually cover the whole planet and at that moment we will all be healed and live happily ever after.
Also know every time you think ye right, it wont work. You kill a heart, so stop it, be positive and help build that heart. It costs nothing, only a little of your energy. Don't forget to place yourself in a heart when you fall of the positive wagon and feel the difference. Make that choice.

I have healed myself and that is enough for me to feel successful.

When I paint I don't know what will be the end result I trust the universe and my guides to allow me to heal what is needed, and then share my art with the world.

Lets make lots of love creating hearts!
Price Range
US$71-105
Email
Exhibitions
Celebrate life festival
Elly's Dutch Touch B&B Gallery
Homes of friends
Vredehoek Library
Education
Self taught
Recommend this Artist!
Bookmark this page on: