---




District 6
US$ 895




Hout Bay
US$ 895




Isle of Man
US$ 1,432




Farm in Bloemfontein area
US$ 1,432

---




Margate
US$ 1,253




Sunflower Field
US$ 895




Bridge in Park
US$ 492




Fishermen
US$ 1,521

---




Camping
US$ 805




Cape Country
US$ 895




Marabastad Pretoria
US$ 895




Marabastad Pretoria 2
US$ 761

---
Remove Wessel from your favorite artists list
Add Wessel to your favorite artists list
About Wessel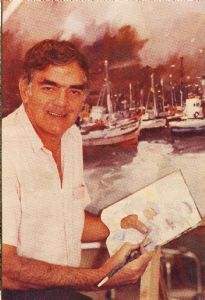 Wessel Marais (1935 - 2009), the son of a postmaster, was born in Magaliesberg. Before his school-going age, his father was transferred to Welverdient, near Potchefstroom, where Wessel grew up on a plot amongst the white, pink and crimson cosmos.
A friend, Simon, who was older than Wessel, introduced him to drawing with sticks in the sand. They mostly drew trains and use to draw them upside down.
Wessel's father was also a kind of artist, a poet and actor, from whom he seemed to have inherited his talent to create. At the time art was considered not economically viable to pursue as a career. His ambition to become a pilot was not practical at the time and Wessel decided to follow his father's footsteps and joined the post-office. This resulted in him moving to Swaziland where he worked in the post office and lived there for two years. After he returned to Pretoria, the opportunity arose to study commercial art after hours.
Wessel left the post office and joined the OK Bazaars in town as head of their commercial department where he was responsible for hand painted billboards, window dressing and advertising. At this time Wessel was still taking art lessons after hours learning how to do paintings in pastel and oil, and drew inspiration from landscapes and the masters of French impressionism.
During this time, Wessel sold his first paintings which were done in oil and watercolours. When Guiseppe Cataruzza, an Italian painter who had his own gallery in Pretoria, came across some of Wessel's work, he invited Wessel to visit him at his gallery. He gave Wessel valuable advice on how to improve his technique and offered to exhibit his art.
Encouraged by his instant success, he felt that he was ready to face the world as an artist. It was a big decision for a family man, with two children, to exchange the sheltered job for the life of a painter. His wife, Christine, gave him the support he needed to take this important step in his life.
Wessel held his first solo exhibition in Potchefstroom. Exhibitions in Johannesburg, Cape Town and at the Schweickerdt Gallery in Pretoria followed. His landscapes, city scenes, flower studies, still life's, Hout By scenes, Cape coons and children playing, have become sought after collectors' items. Wessel Marais' work has been extensively collected by private individuals and corporations alike, both in South Africa and internationally. Although much of Wessel's subject matter is South African, his style and manner of painting have a global appeal.
Wessel believed that a skilled artist must be able to interpret any subject matter successfully on canvas. His personal preferences were to portray everyday scenes with an instinctive playful unrestricted and poetic intuition. His ability to portray in vibrant colours is a gift which is highly appreciated by many of his admirers. Wessel was quoted to say that, "When I am at work, I am totally absorbed with the intangible elements of the subject matter I try to portray. It is not so much the subject that matters, but the mystic energy floating form it that I try to capture in my oils. Sometimes, I think, I come close to succeeding in the capture of the indefinable element some people describe as art. I am however still learning, drawing most of my inspiration while flying my plane, a glider which has made it possible to realize my ambition of becoming a pilot".
After a long and fruitful life, Wessel Marais sadly passed away in April 2009.

Price Range
US$ 492-1,521
Email
Exhibitions
Private exhibition in Potchefstroom (1977)
Exhibition at Catty Art Galery, Pretoria (1978)
Exhibition at Akis Art Galery, Standard Bank Centre, Johannesburg, (1979)
Exhibition at Schweikerdt Art Galery, Pretoria (1984)
Exhibition at Estelle Rossouw Galery, Pretoria (1986)
Exhibition at Carmel Art Galery, Constantia, Cape Town (1987)
Exhibition at Rika Venter Art Galery, Randburg (1988)
Exhibition at Sandton Art Galery, Johannesburg (1989)

Education
Commercial Art
People who chose Wessel's work also chose work by:
Find other: