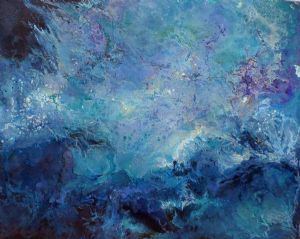 Out of Deep Waters
Acrylic on Canvas, US$ 2,018

Out of Deep Waters
Remove from your Shopping Cart
Remove from your favorite works list
Add to your favorite works list
Details
Acrylic on Canvas
Acrylic on canvas + manipulated + ink
W: 1500mm x H: 1200mm x D: 44mm
W: 59" x H: 47" x D: 2"
Approx. Weight: 5kg
This work is unframed
Price
US$ 2,018
Scale
Reference
LEB201706
About "Out of Deep Waters"
The sailor tells of the perils of the sea; the traveler recounts the varied incidents of his career; and the soldier who has passed through battles and sieges can speak of hairbreadth escapes and moving accidents by flood and field.

So it is with human life. We have the power of looking back; we can in imagination revive the past, and as scene after scene rises before us, our heart is thrilled with various emotions. And what we have experienced and recalled, we can set forth to others.

We are the sum total of our past...but we don't have to stay there. The past can be the stones on which I lay the foundation of a new future. At some point we need to face the past, we need to drown in our angst, insecurity, pain, worthlessness, alienation, orphan-spirit into the seas of possibilities. Only once I have let go of myself, my pride, my exudes, can I reach the depth where stillness comes.

It is a depth of quiet...I drift and wait. I am not in control. Then that small voice comes, a flicker of hope and life gets inserted into me. I am alive, I am alive, I am alive!
Remove Leonie from your favorite artists list
Add Leonie to your favorite artists list
View all 48 works by Leonie Brown
About Leonie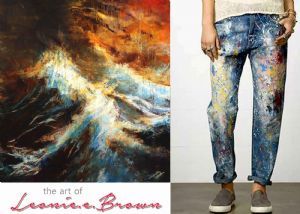 Leonie.e.Brown has a degree in Fine Arts and diploma in teaching and studied Fine Art in Potchefstroom. She was one of the early winners of the Volkskas (now ABSA) Atelier, and today lives and works Cape Town. She has been exhibiting and selling since 2004. Passionate about painting and experimenting with Encaustics, she focuses her work on the relationship between the human spirit, faith, touch and daily life.

About the Style:
The surface of the painting is made up of layers of oils, inks and wax, which give the finished work a three dimensional quality. A sense of seeing through the top layer into hidden messages and layers below. The layering give the work a softness and richness that invites the viewer to look closer and to experience the satin smooth surface through touch,. The wax layers get more and more translucent through the warmth emanating from the exploring human hand. The viewers becomes a part of the slow change and clarity of the painting...as if the message is rising from the depth of the hidden soul to the surface of the mind There is a strange ethereal beauty in these paintings, as if they were made from air.


About Encaustics:
The term Encaustica is derived from Greek, meaning a burning in.
Encaustic art has soft, smokey and sensual feel about it and is a spontaneous medium where hot or cold wax is used, to which colored pigments have been added. The liquid/paste is then applied to a surface and the various layers are melted and burned into each other.
It is typically layered to create more opaque, or more translucent effects, and can be combined with other materials. Each layer of wax can also be scraped, textured or polished for a variety of finishes.
The possibilities are endless--encaustic paintings can be abstract or realistic, subtle or bold--and the wax itself is enormously sensual. It's really all about incorporating your own style into this wonderful medium.


To select, combine and concentrate that which is beautiful in nature and admirable in art is as much the business of the landscape painter in his line as in the other departments of art.
J. M. W. Turner
The role of the artist is to find the deepest feelings of human nature and expose them to the good or the bad. I choose to follow hope and life.
Leonie.e.Brown
"Whatever is true, whatever is noble, whatever is right, whatever is pure, whatever is lovely, whatever is admirable - if anything is excellent or praiseworthy - think about such things. Whatever you have learned or received or heard from me, or seen in me - put it into practice."
Philippians 4:8
To make a mistake is only an error in judgment, but to adhere to it when it is discovered shows infirmity of character.
Dr. Dale E. Turner

About the Theme:
We are the sum total of our past...but we don't have to stay there.
'I come from an exceptionally traumatic background.
From the age of four up until my late twenties I suffered abuse in my closest relationships. At eighteen, I went to varsity in Potchefstroom to study my life's passion - art. As I tried to find my feet as a student/artist/young woman, themes of angst, despair, anger and abuse filled my paintings. I won prizes this way. I won respect and admiration for my talent. But I was also re-living the suffering and continually victimizing myself, which ultimately dug the pit of hopelessness deeper.'
'At the age of 29 life came to a turning point, as I had come to the end of myself - I gave up on trying to build life my way. I turned to my faith (which I had rejected along the way) for help and became part of a faith-filled family which is where I met and married my wonderful and loving husband, Rob. I never looked back.'
'In the past, I had used my story and negative feelings as the source of my artistic inspiration.'

'You see, everyone can resonate with negative visual language - we all drift towards it, because it is a reflection of our imperfect selves. The Bible speaks of it in this way: "Sin gives birth to sin, but Spirit gives birth to Spirit". I became a victor instead of a victim. I saw light and wanted to speak light in my visual language.'

'The more I began to see what is true, noble, right, pure, lovely and admirable through my walk of faith, the more I put it into practice - both in my personal life and in my artistic practice. I realized that the dark paintings I had painted before were not inspiring the viewers to a higher calling or glorifying the Creator, nor even showing what is good and lovely.'

Painting is a strange business.
J. M. W. Turner
I now see my work as contemporary Romanticism rendered in an Impressionistic style, sometimes to the point of complete Abstraction. I enjoy applying bright colors in thick, multiple layers of paint to bring out messages of hope on canvas.
Leonie.e.Brown

About the Message:
"My art is a protest against mindless nihilism...

It's about living in the moment and enjoying that moment...sucking the marrow out of the bone...It's about choosing NOT to live within the Greek mindset, but to access and choose to live out of the spirit, and not of the mind.

I believe our spirits and not our minds, define who we are and reflect a lot about humans and their behavior towards themselves and others. "

The artist reflects the relationship between faith and life and between the real and the imaginary on the various levels and surfaces of the painting.

"My work is about a very specific message to a specific viewer. I see myself as a glorified postmaster."



Price Range
US$ 56-3,150
Email
Exhibitions
Exhibition History:
2018
Bright Street Gallery SOLO, Somerset West, Cape Town
LifeArt Studio, Durbanville, Cape Town

2017
Freshly Brought, Wellington
Meerendal Art Gallery, Meerendal Wine Estate, Durbanville, CT
Winter Life Exhibition, Fish hoek, CT
Boldbrush August Competition

2016 Freshly Brought, Wellington
2016 Winter Life Exhibition, Fish Hoek
2014 Art at Constantia, Groot Constantia Art Gallery
2013 Rosendal Art Gallery
2013 Philadelphia Art Gallery
2012 Philadelphia Art Gallery
2011 Bay Hotel Art Gallery
2011 Junction Art Gallery
2009 Orange Cactus Gallery, Big Bay, Cape Town
Interview with CCFM
Interview with RSG
Die Meul, Philadelphia, Cape Town on 28 November 2009
2008
Die Meul, Philadelphia, Cape Town
RED! The Gallery, Steenburg Village, Cape Town
De Brak Gallery, Groot Brak, Eastern Cape
The Bay Hotel, Camps Bay, Cape Town
Cayman Islands
2007
Johannesburg Outdoor Adventure and Travel Show
RED! The Gallery, Steenburg Village, Cape Town
2006
Evita se Perron, Darling, Western Cape
RED! The Gallery, Steenburg Village, Cape Town
OBZ Cafe, Cape Town
Interview with CCFM
Interview with Tygerburger
Before 2006
Potchefstroom Talent festival
Rolfes Impressions
National Volkskas Atelier * Winner in Fine Art Catagory
Total Exhibition for Young Artists
Potchefstroom Art Festival
Lichtenburg Art Festival
V & A Waterfront
Desire Resnick Art Gallery
Education
BA(BK) Hons
People who chose Leonie's work also chose work by:
Find other: