---




He Has Redeemed
US$ 1,990




Be Still and Wait Through the Storm
US$ 2,693




This Night Will Pass
US$ 1,990




Your Promise Still Stands
US$ 1,990

---




Rising
US$ 1,990




I've Seen the Light
US$ 1,990




Out of the Storm, Into the Light
US$ 2,693




Spread Like a Fire
US$ 1,463
SOLD

---




It's Time to Arise
US$ 1,463
SOLD




Numinous Presence of Divinity
US$ 1,837




Out of Deep Waters
US$ 2,693




When You Lead Me Through Deep Waters
US$ 2,229
SOLD

---




Life Is a Gift and the Giver Is Good
US$ 2,446
SOLD




Power in Glory
US$ 2,736
SOLD




Alive and Swimming
US$ 2,345
SOLD




Here My Hope Is Found
US$ 2,345
SOLD

---
Remove Leonie from your favorite artists list
Add Leonie to your favorite artists list
About Leonie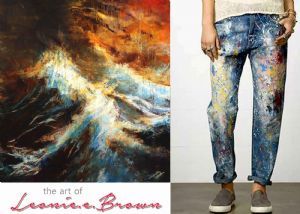 'I am a wandering eye poet, an eclectic color fanatic. I want my paintings to leap off the wall and overwhelm you with their tactile, chocolate thick, color and texture.'

Passionate, expressive, urgent, often using palette knives to scrape and make marks into the paint.

Leonie's current body of work focus more on South African landscapes, using thick impasto paint with lots of texture and color. She describes the process of painting as, passionate, expressive, urgent, often using palette knives to scrape and make marks into the paint.
She is also is a multiple award winner and has taken part and either been placed or won some of the most prestigious awards for Fine Art in South Africa, which includes the following:

* Gregoire Boonzaaier Art Bursary, First prize, 1985.
* Potchefstroom Talent Festival: First prize, 1986.
* Schweikcherd Art Bursary for Painting.
* Winner of Volkskas National Fine Art Competition.
* Placement and First Prize in Fine Art Category, 1986.
* Rolfes Impressions.
* Placement in top 10 nationally: Total Exhibition for Young Artists

Her Abstract work has been described as Abstract Expressionism, but this has not limited Leonie's oeuvre; her realistic work contains and conveys the same explosive energy as her conceptual creations.
With the use of extremely thick impasto paint, bright and unusual color combinations and her own secret intriguing technique, her work tends to overpower the space it occupies.

She believes that the work in itself should be sufficient and powerful enough to carry out the message she is attempting to express. For the last few years she has been focusing on establishing herself as a serious investment artist. She describes her current work as Romantic Turnerism influenced by the likes of Constable, Turner and South African Artist, Errol Boyley, and Adriaan Boshoff.
She has been named as: the new Errol Boyley of South Africa, as well as an artist with the ability to paint like the Old Masters.
Price Range
US$ 1,250-2,736
Email
Exhibitions
Exhibition History:
2016 Freshly Brought, Wellington
2016 Winter Life Exhibition, Fish Hoek
2014 Art at Constantia, Groot Constantia Art Gallery
2013 Rosendal Art Gallery
2013 Philadelphia Art Gallery
2012 Philadelphia Art Gallery
2011 Bay Hotel Art Gallery
2011 Junction Art Gallery
2009 Orange Cactus Gallery, Big Bay, Cape Town
Interview with CCFM
Interview with RSG
Die Meul, Philadelphia, Cape Town on 28 November 2009
2008
Die Meul, Philadelphia, Cape Town
RED! The Gallery, Steenburg Village, Cape Town
De Brak Gallery, Groot Brak, Eastern Cape
The Bay Hotel, Camps Bay, Cape Town
Cayman Islands
2007
Johannesburg Outdoor Adventure and Travel Show
RED! The Gallery, Steenburg Village, Cape Town
2006
Evita se Perron, Darling, Western Cape
RED! The Gallery, Steenburg Village, Cape Town
OBZ Cafe, Cape Town
Interview with CCFM
Interview with Tygerburger
Before 2006
Potchefstroom Talent festival
Rolfes Impressions
National Volkskas Atelier * Winner in Fine Art Catagory
Total Exhibition for Young Artists
Potchefstroom Art Festival
Lichtenburg Art Festival
V & A Waterfront
Desire Resnick Art Gallery
Education
BA(BK) Hons
People who chose Leonie's work also chose work by:
Find other: