---




Moonlit Village
US$ 2,237




Table Mountain Red
US$ 2,237




After the Swim
US$ 2,237




The Green House Effect
US$ 2,237

---




Impasto Landscape
US$ 2,237




Dark Forest
US$ 2,237
SOLD




Peculiar Perspective
US$ 2,237
SOLD




After the Rain
US$ 2,237
SOLD

---




Girl Reading
US$ 2,237
SOLD




Girl Thinking
US$ 2,237
SOLD




Figs
US$ 2,237
SOLD




911
US$ 2,237
SOLD

---




Boat Girls
US$ 2,237
SOLD




Cape Dutch
US$ 2,237
SOLD




Dr H Seftel
US$ 2,237
SOLD




Glassy Day
US$ 2,237
SOLD

---
Remove Hein from your favorite artists list
Add Hein to your favorite artists list
About Hein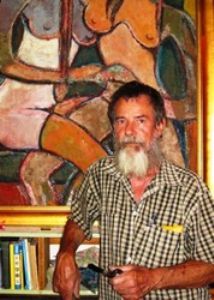 Hein van der Merwe (13 March 1948 - 19 July 2014) was a professional South African artist based in Strand (near Cape Town), South Africa. He painted for over 40 years and his art has sold world-wide, forming part of several overseas collections in various countries including UK, Belgium, France, Australia, and Canada.

He worked under the following names: Hein v. d. Merwe, Lorek Smith, Robert Slide and J. Morake. His style of art is diverse, as are his topics. He liked to work wet-into-wet and has a tendency towards impasto. He was mainly a self-taught artist and has also studied clear-line art (open segment) especially Herge (Tintin), Uderzo and Goscinny (Asterix), etc. Impressionism had an influence on his work and his favourite impressionists were: Cezanne, Monet, Manet, Bazille, Boccioni, Bonington, Bonnard, Soutine, Braque, Caillebotte, Cassat, Renoir, Turner, Constable, Corinth, Corot, Degas, Gauguin, Dufy, Jongkind, Seurat, Fritz von Uhde, Matisse, Morisot, Picasso, Pissarro, Sargent, Sisley, Signac, Vuillard, Lautrec, Slevogt, Van Gogh, etc. He had great admiration for the Fauves and the Cubists but admitted to lean more towards Expressionism. Amongst his favourite Expressionists were: Kandinsky, Erich Heckel, Beckmann, Campendonk, Otto Dix, Feininger, Delaunay, Andre Derain, Ensor, Kokoschka, Schmidt-Rottluff, Grosz, Jawlensky, Kirchner, Paul Klee, Klimt, Max Klinger, Macke, Marc, Otto Mueller, Munch, Wols, Werefkin, Emil Nolde, Pechstein, Rohlfs, Schiele, Modersohn-Becker, Leistikow, Hoelzel, etc. His list of favourite artists went on to include Modigliani, Piet Mondrian, Jackson Pollock, Clyfford Still, Miro, Salvador-Dali, etc.

South African artists whose work he was exposed to (and touched) from an early age included: Maggie Laubser, Irma Stern, Maudsummer, Pranas Domsaitis, JH Pierneef, Alexis Preller, Jan Volschenck, Pierre Volschenk, George Crosland Robinson, Frans Oerder, Hugo Naude, Edith King, Gwelo Goodman, Allerley Glossop, Bertha Everard, Jean Welz, Pieter Wenning, Charles Peers, Edward Roworth, Florence Zerffi, Ruth Prowse, Dorothy Kay, Adolf Jentsch, Moses Kottler, William Timlin, Neville Lewis, Clement Seneque, Alfred Krenz, WH Coetzer, Cecil Higgs, Freida Lock, Wolf Kibel, Ruth Everard-Haden, Walter Battiss, Maurice van Essche, Stefan Ampenberger, Gregoire Boonzaier, Terence McCaw, Gerard Sekoto, Bettie Cilliers-Barnard, Eleanor Esmond-White, Sidney Goldblatt, Carl Buchner, Paul du Toit, Gordon Vorster, Majorie Wallace, Cecil Skotnes, Erik Laubscher, Anna Vorster, Bill Ainslie [0x1] the list of artists he studied and admired is seemingly endless[0x1]

He also studied pottery and wood carving where his main stimulus was derived from African art and Folk art. In 1998, he completed a graphic novel, The Amazing Adventures of Tom Strak in: The Humming Key[0x1], which was intended for the Asterix and Tin Tin market. His posters are available for pdf download online under the pseudonym Lorek Smith. He hoped to one day complete a painting from start to finish without interruption.

Further aspirations and leanings included to do more abstract paintings, abstract expressionism, Art Brut, colour-field painting, fauvism, hard-edge painting, illusionism, mixed media, Op Art, pointillism, pop art, post-impressionism, more primitivist work, surrealism, stylization, symbolism, tachisme as well as abstract woodcarving and sculptures and were always on the lookout for strange objects with the intention of creating some found object masterpiece.
Price Range
US$ 2,237-2,237
Email
Education
Self-taught
People who chose Hein's work also chose work by:
Find other: